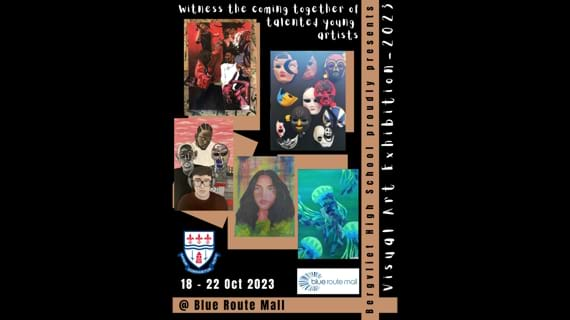 ---
Bergvliet High School's Matric Visual Arts Expo (For Free)
Blue Route Mall and Bergvliet High are thrilled to announce that, for the second year in a row, the Bergvliet High Matric Art Expo will be held at Blue Route Mall from 18 October to 22 October. They are inviting the local community to visit the exhibition, at Blue Route Mall, between 9am and 5pm daily. This is an incredible opportunity for their young aspiring artists to showcase their work to a much wider audience than usual.
Their Visual Art department is renowned for producing excellent artists, one of them being Derric van Rensburg, who is internationally known for his superb impressionist paintings and is widely rated as one of South Africa's top artists. In addition to the Matric Art, they will be showcasing the work of some of their Grade 10's and 11's. The aim is to provide them with the experience so that they can step up their game for future years. "Having one's work showcased to the wider public will bring a greater expectation in the quality of work needed to be world class.
'In 2023 our learners were once again invited to participate in the UCT Irma Stern Museum celebration of her work.  Amongst learners participating from schools across the Western Cape, two of Bergvliet High School's learners, Alexa Mehl and Reece Swartz, have been selected to participate in the exhibition to be held in September. This shows the learners that this is not just a pipe dream" stated Bergvliet High's principal, Patricia Demas.
This Matric Visual Art Expo provides the perfect opportunity to showcase this talent. The school invites the local community to support their learners by visiting the matric Visual Art exhibition at Blue Route Mall.
On the evening of 18 October, the Art learners will be manning the Spur Shadow Shift at Blue Route Mall's Spur to raise funds for the Art Department. Why not make it a family outing…. come and visit the Expo AND then head for dinner at the Spur.
This is just another way that Blue Route Mall is showcasing their passion for uplifting and assisting their local community in an ongoing initiative they call "Blue Route Mall Changing Lives".
October 18 2023
- October 22 2023
---